Meringuetaart van citroenijs – een heerlijk fris recept voor warme zomerdagen!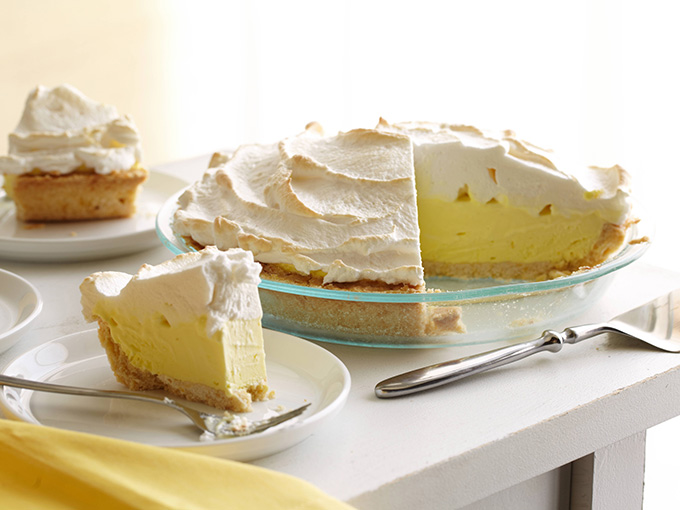 Benodigdheden
150 g bloem
150 g plus 3 el suiker
115 g ongezouten boter, in kleine stukjes gesneden
1/2 tl fijn geraspte citroenschil
1 ei plus 2 eiwitten
0,8 l citroen ijs, verzacht
8-10 druppels gele kleurstof, optioneel
1/2 tl vanille-extract
zout
Bereiding
Verwarm de oven voor op 170°C.
Doe de bloem, 3 eetlepels suiker en een snufje zout in een middelgrote kom. Voeg de boter en citroenschil toe en meng tot het een kruimelig beslag is.
Split de eieren. Gebruik het eiwit voor de meringue topping. Voeg de dooier aan het deeg en meng tot een zacht deeg. Leg het deeg in een taartvorm van 23 cm en bak deze ongeveer 25 minuten tot de taartbodem mooi goudbruin is. Laat afkoelen.
Snijd zachtjes met een scherp mes 10 stukjes in de taartbodem (ongeveer halverwege de korst). Zo zal de bevroren taart straks makkelijker te snijden zijn.
Leg het citroenijs in een grote kom en meng ongeveer 2 minuten met een spatel of houten lepel tot een gladde massa. Meng eventueel de kleurstof erbij.
Schep het ijs in de taartbodem, strijk de bovenkant glad en zet in de diepvries tot het stevig is, ongeveer 2 uur of een nacht.
Verwarm de oven voor op 250°C. Verwarm de 3 eiwitten, de resterende suiker en een snufje zout au bain marie.
Klop tot de suiker is opgelost, de eieren warm zijn en het mengsel luchtig is. Klop daarna ongeveer 2 minuten met een elektrische mixer op middelhoge snelheid tot het mengsel afgekoeld is en er dikke, glanzend en stijve pieken kunnen gevormd worden.
Klop het vanille-extract er tenslotte nog bij. Verdeel het eiwit over de bevroren taart en plaats in de oven tot de meringue bruin kleurt.
Snijd in stukken en serveer.
10 personen
Bron: foodnetwork.com