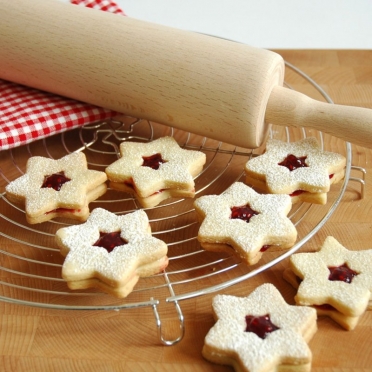 Met de speciale uitsteekvormen voor Linzer koekjes kan je zowel een 'gewoon' rond koekje uitsteken, als een klein kerstvormpje. Hiermee kan je prachtige dubbele, gevulde koekjes maken. Heb je geen Linzer koekvormpje? Maak de uitsparing in het midden dan m.b.v. een mesje of een klein uitstekertje.
Benodigdheden
350 g bloem + extra om te bestrooien
250 g boter op kamertemperatuur
120 g suiker
1 zakje vanillesuiker
2 eidooiers, losgeklopt
enkele eetlepels jam, bv. aardbeien, frambozen, kersen of abrikozen
poedersuiker om te bestrooien
uitsteekvormpjes

Bereiding
Meng de bloem, suiker en vanillesuiker in een kom.
Voeg de eidooiers en de boter toe en kneed alles tot een glad deeg.
Vorm het deeg tot een bal en dek deze af met plastic folie. Laat het deeg ca. 1 uur rusten en opstijven in de koelkast.
Verwarm de oven voor op 175°C.
Rol het deeg uit op een met bloem bestoven werkblad tot ca. 4 mm dik. Steek er m.b.v. de Linzer uitsteekvormpjes ronde koekjes uit. Rol de rest van het deeg opnieuw uit en steek ook hier rondjes uit. Verdeel de koekjes in 2 porties.
Steek nu, m.b.v. het kleine uitsteekvormpje, uit de helft van de koekjes een extra vormpje uit het midden.
Leg de koekjes op een met bakpapier beklede bakplaat en bak ze in ca. 13 min. lichtbruin. Laat ze afkoelen op een taartrooster.
Bestrijk de koekjes zonder extra uitsparing m.b.v. het bakkwastje met een laagje jam. Bestrooi de koekjes met een gat in het midden met poedersuiker en leg ze, met de besuikerde kant naar boven, op de koekjes met jam. Druk ze licht aan.
Tip
Voor een lekkere variatie kan je wat citroenrasp door het deeg mengen, of 1 eetlepel kaneel of wat gemalen kardemomzaadjes.
Bron: dille-kamille.nl